The 13 Best Japanese Toners For Every Skin Type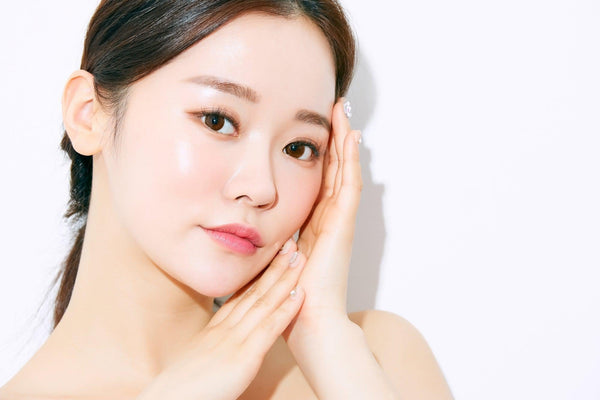 Jump to:
Japanese Toners vs Lotions – What's The Difference?
In Japan, what is commonly referred to as lotion is typically a hydrating and slightly thicker liquid that can resemble what we think of as a toner in Western beauty products. Japanese lotions are designed to hydrate and moisturize the skin and are an important step in the typical Japanese four step skincare routine. Japanese lotions are designed to hydrate and moisturize the skin, whilst toners are typically used for cleansing and refining the skin, addressing issues like uneven skin tone, and prepping skin for the application of moisturizers and serums.
Japanese vs Western Toners – Which Is Better?
Whilst the notion of which type of toner is better is subjective, here are a few reasons why you might want to consider using a Japanese toner over a Western one. Firstly, Japanese toners are often multifunctional products, combining toner, essence, and moisturizer in one product. This streamlines your beauty routine, saving you time and money.
Also, Japanese skincare products often incorporate traditional ingredients and combine it with the latest technology, to create unique products. Common natural ingredients found in skincare products include rice bran, green tea, sake, and seaweed, known for their antioxidants and skin-soothing properties.
Japanese skincare products are very high-quality. It's important to note that in Japanese culture much emphasis is placed on taking a preventative approach to beauty, therefore high-quality skincare products align well with these values.
In this article, we'll recommend some of our favorite Japanese toners. Whilst there are toners to address every skin type, consumers with dry or dehydrated skin are especially likely to benefit from incorporating a Japanese toner into their skincare routine.
Best Toner For Reducing Pores
This Japanese wipe-off toner removes blackheads, lightens uneven skin tone, shrinks enlarged pores, and moisturizes the skin with just one product. With regular use, it helps skin to become smoother and firmer, and it has a non-sticky texture that easily glides onto the skin.
This product contains two super skincare ingredients – PHA and niacinamide. PHA is a type of exfoliant that helps to remove dead skin cells on the surface of the skin and inside of pores, whilst niacinamide is a hydrating ingredient and assists with pore care.
The toner is also packed with natural botanical essential oils such as hamamelis leaf extract and artichoke leaf extract to help moisturize skin and improve texture.
Dr.Ci:Labo Super Keana Essence Lotion Pore Care Toner 100ml
$19.99
Best Toner For Sensitive Skin
Muji Light Toning Water helps to remove any remaining dirt after cleansing, soothing, and hydrating your skin. It is low in potential irritants, making it ideally suited for sensitive skin, and is free from fragrance, artificial colors, mineral oils, and alcohol.
This highly moisturizing toner also contain the finest quality water sourced from natural cavern springs in Japan's Iwate Prefecture and is available in three varieties according to your skin type: Light, Moisture, and High Moisture.
Muji Light Toning Water Toner High Moisture 400ml
$19.95
Best Toner For Combating Signs Of Aging
The Rohot Obagi X toner utilizes the latest research in skin cells and aims to tackle signs of aging, making it ideally suited to consumers in their thirties and forties. Providing a deep level of hydration, this product's unique formula contains peptides, collagen, hyaluronic acid, and platinum prescription to aid skin resilience and give your complexion a dewy look.
The toner has a thick but easily absorbed texture. It also has a relaxing floral aroma of frankincense, rosemary, and geranium for a more enjoyable and calming experience.
Rohto Obagi X Lift Lotion Beauty Toner 150ml
$54.00
Best Toner For Problem Skin
Albion Skin Conditioner Essential is ideally suited to consumers with problem skin prone to pores by removing excess sebum. It contains carefully selected ingredients to moisturize and restore skin to its best possible condition.
The core ingredient included within this Japanese toner is an organic plant-based extract called "Kita no Hato", a variety of Job's tears, a tall perennial grass cultivated in the cooler climate of Hokkaido, Japan.
The Albion Skin Conditioner Essential Toner has been a popular skincare product in Japan since 1974. With regular use, consumers can expect results to include clearer, dewy-looking skin.
Albion Skin Conditioner Essential Toner 330ml
$99.00
Best Toner With Built-In Moisture Mist
This brightening toner also doubles as a Japanese moisture mist for a quick hydration fix. The toner can be sprayed onto any skin areas in need of hydration and has a watery texture which is easily absorbed into the skin.
Unlike most other toners and lotions, this product's spray function makes it convenient to reach difficult areas such as the back. You can also use this product to help prevent spots and freckles caused by sun exposure whilst moisturizing and nourishing the skin.
Marna White Conc Body Lotion Skin Brightening Mist Toner 245ml
$19.99
Best Toner Suitable For All Skin Types
DHC Mild Lotion is a toner that can be used for any skin type, providing moisturizing benefits to all consumers, whether you have dry, oily, or sensitive skin.
This toner has a luxurious blend of moisturizing ingredients, including plant extracts rich in vitamins, that work effectively to improve skin texture and make your complexion brighter and more translucent. The DHC toner also helps to improve your skin's natural moisturizing ability by adjusting the balance of water and oil.
DHC Mild Lotion is free from irritants such as fragrance, coloring, paraben, and has a mild acidity making it suitable for consumers with sensitive skin.
DHC Mild Lotion Hydrating Toner for All Skin Types 180ml
$38.00
Best Hydrating Toners For Acne
Orbis Clearful Lotion M Hydrating Toner is formulated with active ingredients that target and treat the root causes of acne. This toner works deeply inside the pores to increase the antimicrobial peptides – molecules that protect against bacteria, ultimately improving the skin's resistance against acne.
Active ingredients in this toner include gromwell root extract, a plant native to Japan which restores skin balance and has soothing properties, as well as improving the skin's protective function. This toner also contains licorice root extract which contains anti-bacterial properties to prevent acne aggravation, in addition to aloe vera, pearl barley and mugwort extracts to keep your skin hydrated and healthy.
Orbis Clearful Lotion M Hydrating Toner for Acne 180ml
$24.00
This toner is designed for consumers with concerns about adult acne, helping to protect your skin from further breakouts whilst improving its current condition.
The toner has a watery texture effective at retaining moisture and contains a powerful blend of hydrating ingredients including collagen, hyaluronic acid, and nine plant-based formulas. It's also allergy tested making it suitable for sensitive skin.
Kracie Hadabisei Acne Care Lotion 200ml
$17.99
Best Toner Featuring Natural Ingredients
This high-quality toner features food-based and natural ingredients including organic matcha powder sourced from Uji in Kyoto. Matcha is known for its high content of antioxidants which are very beneficial for your health and skin.
Other active ingredients within this toner include chia seeds, quinoa seeds, and acai berries, along with plant extracts and sake lees to enhance its moisturizing benefits. This toner is kind on all skin types and is free from potential irritants like parabens and mineral oils. It's also a cruelty-free product and does not use animal testing in its production.
Kitao Matcha Essence Lotion Organic Japanese Matcha Facial Toner 200ml
$32.00
Best Toner For Dry Skin
This deeply moisturizing and rose scented toner from skincare giant Shiseido is ideally suited for consumers with dry skin – with two different varieties to choose from, one for normal to dry skin, and one for dry to very dry skin.
In addition to its powerful hydration effects, this toner is absorbed quickly into the skin and contains ingredients that are believed to help prevent spots and freckles. It also has a cleansing function, helping to remove dead skin cells and makeup residue.
Shiseido Aqualabel Toning Skin Care Lotion Moist 200ml
$21.79
Best Vegan-Friendly Toner
Meishoku Keana Beaute Pore Tightening Lotion is the ideal toner for consumers concerned about enlarged pores, sebum shine, and rough skin texture. This product effectively tightens pores to prevent the skin from experiencing further issues.
This toner's formula is completely vegan and is also halal certified with received certification from the Japan Asian Halal Association. It contains active ingredients such as vitamin C and Cica which are rich in antioxidants, helping to decrease moisture loss and aid in cellular repair.
The formula also helps the skin to absorb other nourishing ingredients from your skincare routine better than before, whilst preventing further skin troubles from arising.
Keana Beaute Pore Tightening Cruelty-Free & Halal Skin Lotion 300ml
$16.95
Best Toner For Firmer Skin
This moisturizing and firming toner uses the power of fermented plants to hydrate skin, alleviate sagginess, and maintain softness and resilience. 60% of the toner's formula consists of fermented plant extracts such as rose, chamomile flower, peony root, and perilla leaf.
The Koh Gen Do Oriental Plants Lotion has a mild texture that effectively hydrates the skin and is free from irritants like aromatics, colorants, parabens, and alcohol.
Koh Gen Do Oriental Plants Lotion 300ml
$110.00
Best Cleansing Toner
The Chacott Cleansing Water is a hybrid facial wash and toner. Originally designed for stage performers who have difficulty removing their makeup in a dressing room, it allows you to effortlessly cleanse heavy makeup without having to wash your face with water.
Available in a generous-sized 500ml easy-to-use pump bottle, by using this product you can save time on your evening routine by using it as a makeup remover, facial wash, and toner in one. It has a weak acidity and does not contain oils, aromatics, colorants, or parabens.
Chacott Cleansing Water Multi-Functional Makeup Removing Lotion 500ml
$23.98
Want to discover more Japanese skincare products? You can see our full range of Japanese toners and lotions here.